November 8th, 2012 - ONTD_Glee
08 November 2012 @ 12:44 am
08 November 2012 @ 09:35 am
[
the newest dispatch from the cast of Glee, will likely sell 15-20k
]
ONE-DAYS: THE VOTES ARE IN

Forecsts for Now 44, Aerosmith, Ne-Yo, All That Remains and Glease, Plus Jokes

November 7, 2012

Would you believe that long lines at polling places put a damper on first-day sales for several of this week's new releases? Would you believe that sweeping Democratic victories mean "our nation must be governed by the center"? Would you believe that what happened that time at the Motel 6 has never happened to us before?
Well, whatever you believe, here are some facts about the week's key debuts.

Capitol's Now 44 looks set to move 95-105k, while Aerosmith's new one on Columbia should do 70-80k. Ne-Yo (Motown) appears set to rap up 50-55k and Razor & Tie's All That Remains should scare up 20-25k.

Tell you more, tell you more? Well, Glease (Columbia), the newest dispatch from the cast of Glee, will likely sell 15-20k. Are we the only ones who think of Buddy Hackett's waiter routine whenever we see that title? We are? OK, then.

http://www.hitsdailydouble.com/home/home.cgi
08 November 2012 @ 10:57 am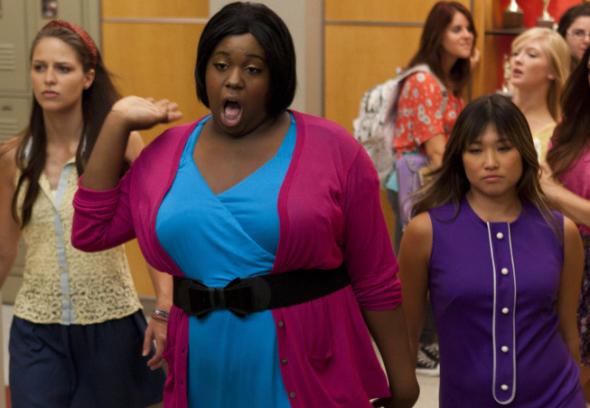 Grease is the word when Glee returns tonight with a run of new episodes, starting with "The Role You Were Born to Play."
But before we all start hand jivin', TV Fanatic had the opportunity to catch up with Alex Newell, who plays Wade/Unique Adams, to talk about the jump from guest appearances to regular cast member status. Read on to find out what he had to say...
(
+++++
Collapse
)
tv fanatic
08 November 2012 @ 12:17 pm
(ed. note: this could also be titled "heather hogan stops kissing ryan murphy's ass long enough to notice there's a problem")
Nothing fuels fandom like a hiatus, and the way Glee dropped the microphone six weeks ago was like throwing a match on pyre. "The Break Up" featured the break ups of all four of the show's power couples, including Brittany and Santana, and if you don't think the fandom fallout was apocalyptic, let me introduce you to my friend Tumblr. We've lived through a lot of fictional lesbian breakups and makeups here at AfterEllen, and usually the cycle is the same: A lesbian couple breaks up, we wail and gnash our teeth and vow never to watch a show again, time passes, we process, fanfiction happens, the show returns and so do we.
But this year's Glee hiatus has been a little different. Rather than letting the fandom flame flare and burn itself out, Ryan Murphy keeps throwing kindling on the Brittana fire. Last week, he tweeted a photo of Brittany and Sam in fancy dress and captioned it, "The Wedding Of The Year."
Two days ago someone apparently tweeted to ask Murphy what's his ground wire after a long day at work, and he replied, "Red wine. And avoiding Brittana tweets." (The tweet is no longer available in Murphy's Twitter timeline.)
(
i guess this has spoilers for other shows idk
Collapse
)
afterellen
08 November 2012 @ 01:45 pm
08 November 2012 @ 01:52 pm
08 November 2012 @ 02:27 pm
08 November 2012 @ 03:41 pm
Thursday, Dec. 13
GLEE (9:00-10:00 PM ET/PT) – "Glee, Actually"
In a tribute to the film "Love, Actually," seemingly separate storylines come together as one holiday-themed episode, in which Sam (Chord Overstreet) and Brittany (Heather Morris) live their lives to the fullest before the much-heralded Mayan Apocalypse occurs. Meanwhile, Jake (Jacob Artist) and Puck (Mark Salling) spend quality sibling time together for Hanukah, Artie (Kevin McHale) has a holiday dream that changes his outlook on life and Kurt has a Christmas he'll never forget.
spoiler tv
(
songs
Collapse
)
gleekoutbr
08 November 2012 @ 05:08 pm
Glee loves a mean girl and newcomer Becca Tobin's Kitty has been redefining the role at McKinley following Quinn and Santana's graduation.
In her short time on the Fox musical, the new Cheerio has clashed with Brittany (Heather Morris), Marley (Melissa Benoist) and lost a boyfriend in Jake (Jacob Artist), while only seemingly making friends with Sue Sylvester (Jane Lynch). But there's always more to every mean girl and Tobin hopes that joining New Directions will help not only transform the new queen of mean as she explores her artistic side via McKinley's production of Grease.
The Hollywood Reporter caught up with Tobin to talk love triangles, Kitty's efforts to win Jake over again, how Blake Jenner's arrival as Ryder complicates the mix and how she feels about sharing a similar story line to Dianna Agron's Quinn.
(
Becca Jesus † Amen Tobin
Collapse
)
BECCA TOBIN FROM GLEE JOINS BULLYVILLE.COM TO HELP PUT AN END TO BULLYING!
My experience with bullying growing up:
I transferred schools halfway through my senior year, and dealt with a lot of bullying from a specific group of girls at the new school. I transferred from a performing arts high school, so the girls really enjoyed talking about what a "theatre nerd" or a "freak" I was. The only girlfriend I had at the new school started ignoring me, because the other girls threatened to kick her out of their clique if she didn't. I started skipping pep-rallies on Fridays because I would sit alone and receive dirty looks and mean comments from the other girls. Being the new kid is difficult enough, but being bullied on top of it made it pretty miserable. I am very excited about being the female spokesperson for BullyVille and helping others realize that it does get better and they are not alone!
Please click
here
if you'd like to hear Becca discuss BullyVille with Extra.
THR
//
bullyville
08 November 2012 @ 05:31 pm
08 November 2012 @ 05:37 pm

GLEE: The boys perform in the "Glease" episode of GLEE airing Thursday, Nov. 15 (9:00-10:00 PM ET/PT) on FOX.
08 November 2012 @ 10:05 pm
08 November 2012 @ 10:33 pm